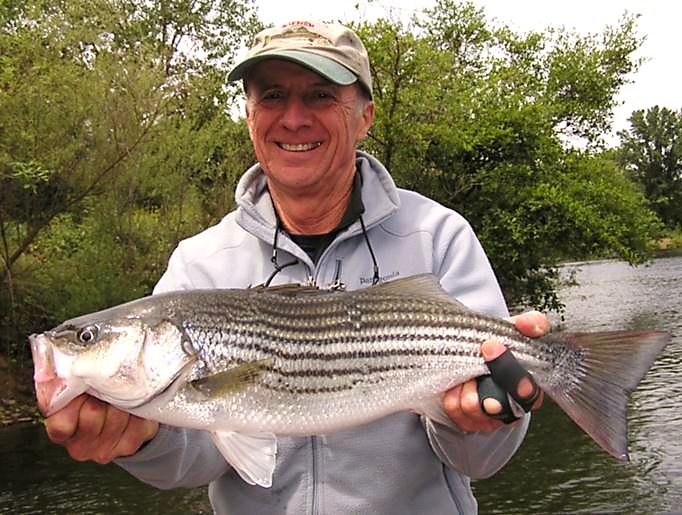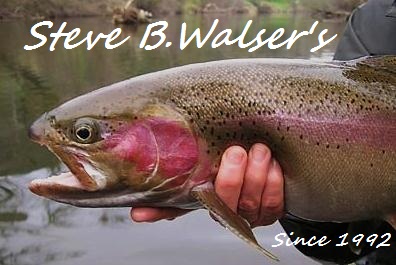 We are proud to
introduce you to the leading guide service in California's West Slope of the Sierra. Our service offers the most diverse guided adventures to be found anywhere. From casting a #22 dry fly to a sipping rainbow, throwing a shooting head ninety feet at an awaiting striper, hooking into a huge smallmouth bass on a popper, or fighting a nickle bright steelhead done the river, the "West Slope" has something for every anglers taste.

We guide over 1200 miles of moving waters full of native trout, steelhead and salmon, as well as striped, smallmouth, largemouth, and spotted bass, for our clients to explore. We also offer over 20 still water fisheries, that produce trophy fishing unmatched anywhere. Our service also works with many private land owners, to assure that our clients receive the most "untouched" waters available in this area. With so much diverse and uncrowded water, coupled
with the access we have secured, the majority of our clients spend all day on the water without encounterng another anlger.

Our guided fly fishing adventures focus a very strong emphasis on instruction and we pride ourselves in our ability to consistently produce "fishing experiences of a lifetime" for our clientele. Whether it's your first day on the river, or you are a more advanced angler looking to polish your skills, our expert staff of guides will provide you with a very memorable outing. We also offer instruction for those who prefer to fish conventional gear and have years of experience guiding and teaching those techniques as well.

While fishing our waters is the main focus, our staff of guides has a combined 35 years of experience spending time on the water with our clients and their families. Providing excellent gourmet lunches, sharing our knowledge of the water and the scenic beauty of the area is a part of every Sierra West Adventure.


With all of the Year Round opportunities that we offer, only 2 hours from the S.F. Bay and Sacramento areas, we have only one Question...

Isn't it time you discover the secrets the West Slope of the Sierra Holds?







We hope you enjoy your tour of our site and look forward to seeing you on the Water

"REEL"

soon. If you have any questions or would like more information please don't hesitate to contact us at...

(209) 743-3416 or by e-mail at walsersteve@yahoo.com


*Note: SWA requires a 50% deposit on any trip booked.

SWA Does Not Issue Cash Refunds On Any Deposit

. In the event of cancellation By SWA, the full amount of your deposit will be issued in a gift certificate. This may be used at any time in the future to deposit another outing. You must cancel any booked trip before one full month of the original date booked, or SWA will retain your deposit, with no type of refund issued. If canceled before that time, you will be issued a gift certificate for the full price of your deposit. Any trip canceled with less than

one week notice

will be charged the full price of the outing, including any lodging balances owed.
Copyright 2012 Steve Walser's Sierra West Adventures ~ Site Design S. Walser